Create and design a product that focuses on foster dogs.

Adobe Illustrator, Adobe InDesign
&dogs is a starter pack gift box for both the foster dog and the family, focusing on making the transition from a shelter to a foster home a smooth and happy experience for everyone involved. 
There are many subscription-based boxes and gift boxes for dogs who have found their forever home, but almost nothing exists for foster dogs. Transitioning is rarely an easy experience for both the dog and their human, so the &dogs foster box was created to solve this problem. 
My very first step in working on this project was to research and get feedback from experienced foster parents. This research was conducted mostly through a dog foster Facebook group. They were asked what advice they wish they had when they first started fostering dogs, and what items they recommended and considered a "must-have." This research would go towards the Foster Manual and towards what products would be included within the starter pack.
From this point, I moved on to writing up a project proposal. The proposal presents the problem that fostering can be scary and difficult and provided the solution of the &dogs starter pack. It highlights the goals and objectives of the product and then addresses the strategies and solutions, such as how to provide low-funded shelters with the &dogs box. Lastly, it breaks down all the deliverables, when they will be finished, and how much everything will cost for the project. You can view the proposal through the button below. 
As always, I first started by working on a logo and creating a brand identity for my hypothetical company &dogs. I wanted the logo to be simple and easy to look at because of the ampersands. In order to further push the fact that it is a dog company, I added a tapered stroke that calls back to a dog snout. Because the logo is more on the simple side, I wanted to really push vibrant colors that invoke a fun and fresh feeling. From there I worked on creating a few patterns and iconography that fit within the style, as well as picking a typeface that fits the brand.
With a logo and brand style finalized, I began creating all the packaging for the products that would be included in the box, as well as the box itself. Altogether, the dielines below are of the following:
Box (inside & outside dieline), Treat Box, Doggie Poop Bag Box, Tug Rope Label, Llama Plush Label, Postcard Insert, Slip Leash Tag, Wet Wipes box, Individual Wet Wipe Packaging, Bandana Design, and Bandana Label.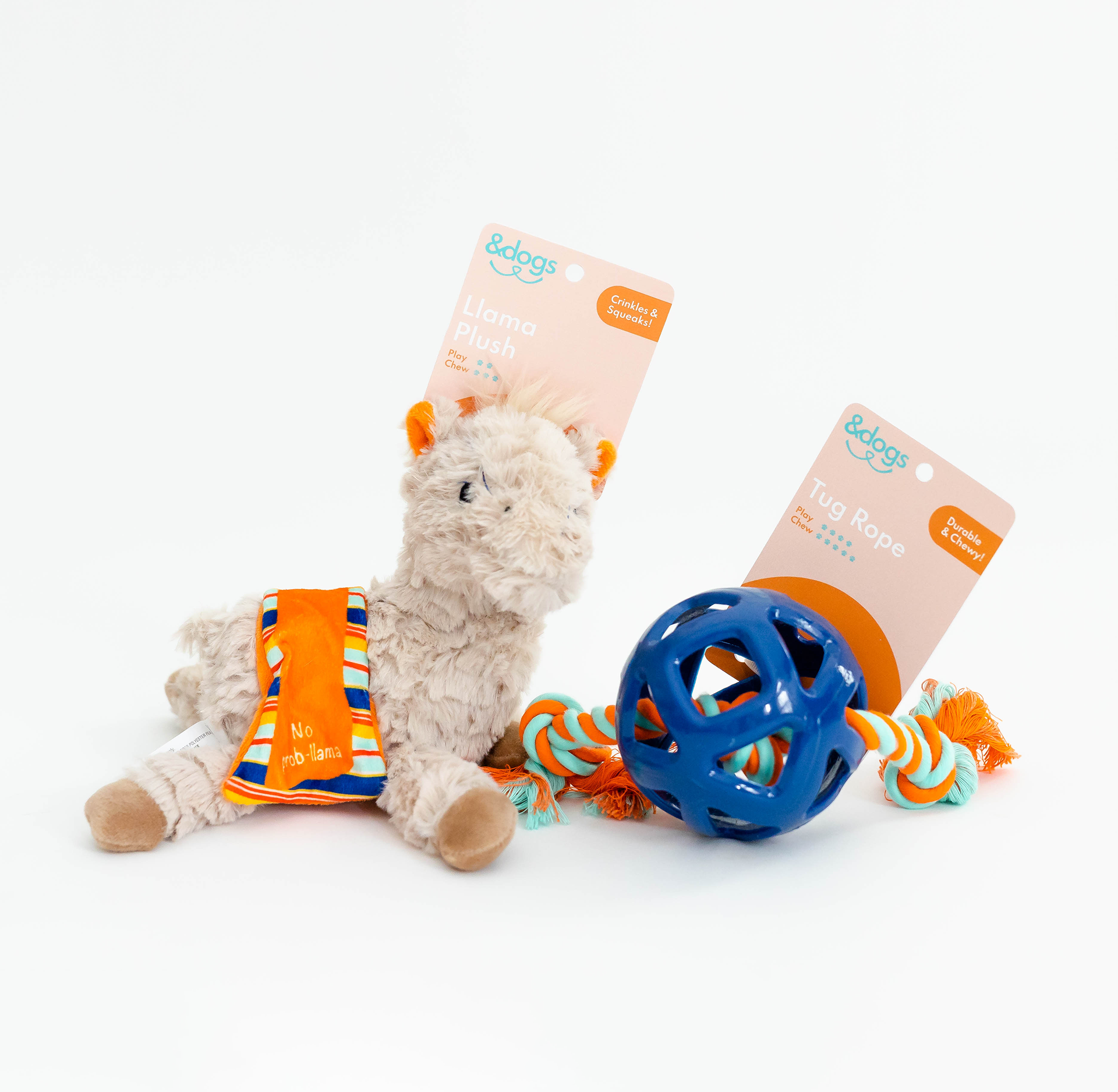 I was able to print the packaging out with a large-scale Roland printer and have everything cut and scored using a Mimaki  Plotter. In order to keep the ink from cracking when the boxes were being assembled, vinyl was applied to the cardboard before printing to make for smooth folds. The individual wet wipe packaging was printed directly on vinyl in order to give a realistic wet wipe packet look.
Although a subtle touch, the paw prints on the main box are designed to be embossed. This creates a fun intractable element to the box and elevates the design. Because these boxes wouldn't be shipped through a postal service, but rather provided within the shelter or rescue center the foster dog would be coming from, the box can support the embossed elements without the worry of being damaged through shipping.
It is expected that not every person receiving this box will be new to fostering. Rather than providing a manual in each box that may not be used, in order to be more sustainable, on each card included in the box is a QR code, that when scanned will lead directly to a guide on how to foster a dog. This guide provides for new foster parents such as what items they may need that are not provided in the &dogs box, tips and tricks to welcome the new foster into their home, how to help their foster get adopted, and more!
What is a product without some promotional material? Here's an example of what some poster ads and Instagram posts could look like. The material should follow the brand's style and color scheme. Adding hand-drawn elements into the images makes the posts feel more friendly and less corporate. However, these drawings do not take away from the professional quality of the imagery.
Every dog deserves a fighting chance.

Save a life, foster a dog.