A collection of freelance designs and projects for various clients.
The H.O.P Ambassador Program is a program run by a dance and portrait photographer, Heather O'Steen Photography, meant to unite the local dance community in the Harford County, Maryland area.
The client wanted a logo specific to the program, separate from her photography logo. Based off the example logo's she sent me to show the end goal, I created multiple versions of logo's to be used for the program, working to meet the client's desired outcome. The logo was originally created in 2021, and then underwent a slight revamp in 2022.
As well as creating a logo for the program, I also created a simple image that accepted ambassadors can post on their social media when accepted. The image reflects both the logo, and the color affiliated with the ambassador program. The client wanted something minimal, that could serve as both an image, and be incorporated within other images if needed.
Promotional Flyer
Client: ACMO
ACMO, or the All Campus Music Organization, is a student-run musical theater group at Millersville University that has been entertaining audiences at Millersville for 50+ years. They reached out to me for help creating promotional material for the 2021 fall showcase. The showcase was centered around the great unknowns of the universe, and the client wanted the design to reflect the ocean or space, with a blue/grey color scheme.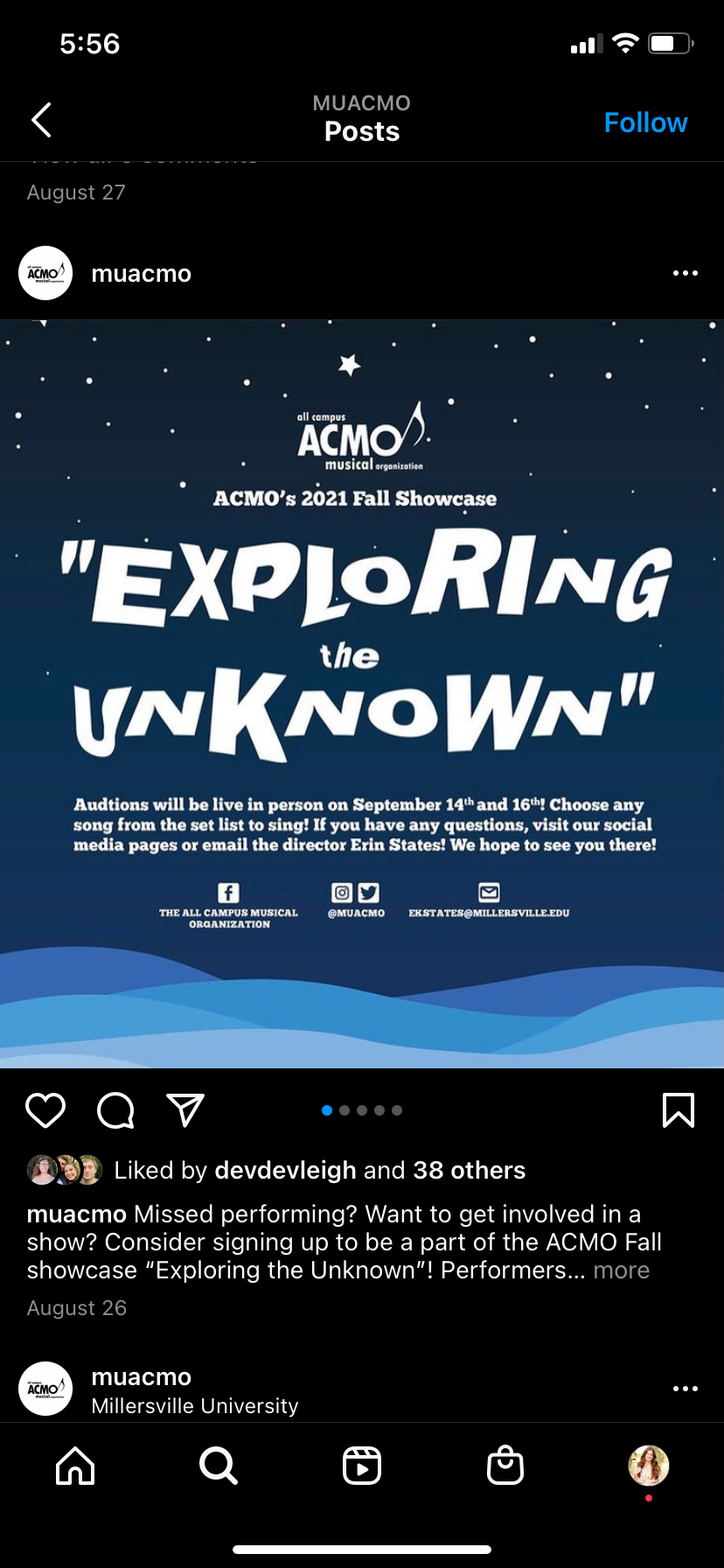 Below are the three other concepts I created that were not picked for the final. A and B lean more into the space concept, while still including organic shapes to resemble water. The overall concept was more abstract than concept C, and the final graphics. Concept C reflects the ocean and its depths. The dark the ocean gets the more unknown it becomes, so I made it transition from ocean to space to further represent those vast unknowns the universe has to offer.
A client reached out to me with an idea for an album cover for the new season of his podcast, Retrospection Radio, a historical horror audio drama. The lighthouse and location off the coast reflect what is occurring in the podcast. This concept developed into showing everything within an old radio, reflecting the overall feeling of the podcast. I worked with the client to perfect his vision, both in color scheme and illustration work.
After finalizing the design, it was used for both the podcast album artwork and promotional material on multiple different platforms.